Seahorse
Welcome to the Seahorse Class Page
Years 1 and 2 Teacher - Mrs Welton
2021 - 2022
Seahorse Class have been very busy since September in their learning. In Science, we have been learning about mixtures and potions. We have made our own crystals...
...and explored irreversible changes when we heat food.
We have also been cooking food during our "Healthy Me" morning. This time, we dug up our potatoes which we had ben growing over the summer and cooked them in different ways to find out which was the tastiest!
In Topic we have been learning about castles and we have made helmets and shields in readiness for our jousting tournament next term! In Art, we have created repeated patterns by weaving different coloured pieces of paper.
2020 - 2021
What amazing learners we have both at school and at home!
Seahorse Class have been really busy this Autumn Term!
Toys
Our Topic has been Toys. We have been learning how toys have changed over the years, by looking at the materials used and how they were powered. We have used our research into mobiles for babies to design and make our own. In Science, we have investigated which type of plastic bottles makes the best water squirter and found out that certain materials are better at slowing a card down a ramp than others. We have learned that we use forces every day – pulling open a drawer, pushing a chair under a table and how gravity keeps us on the carpet during listening time!
English
In English, we have read 2 books – "Here We Are" and "The Robot and the Bluebird" and have learned so much! We have learned about space, Earth, the human body and how to mend a broken heart! We have even investigated the flowers and plants around the school, looking at shape and colour and deciding whether we liked the smell – some yes, some no! We have performed a class poem and written our own acrostic poems, which will be entered into a competition!
Maths
In Maths, we have made shapes using string and learned how different Maths equipment can help us to complete number sentences. We have even used our footwear to show place value!
Outdoor Learning
In Outdoor Learning, we have been busy making bird feeders and created some beautiful observational drawings of leaves, nuts, berries and fruit.
Music
Finally, in Music we have been composing music using our bodies as our instruments by clapping, clicking, stomping and tapping, making sure that we all keep to the same pulse.
2019 - 2020
London
We have a new topic: London. We have been learning about the first 1,000 years of this city. It was quite a violent time, with lots of people fighting each other in order to control the city. Year 1 children learned the song "London Bridge is falling down" and performed the dance to visitors at our class assembly.
English
In English, we have been following the adventures of Claude and his best friend Sir Bobblysock in a book entitled "Claude and the City", by Alex T Smith. We have made our own Sir Bobblysocks (making sure that our old socks were quite bobbly), created a map of a city and even held a press conference after a robbery was foiled by Claude and his berets!
Science
In Science, we have been learning about materials and their properties. We have made snow, measured how far different materials bounce and even made paper boats to test waterproofing.
Maths
In Maths, we have had a week of "Inspirational Maths", where we did lots of interesting activities, including hand shape twister! On Numbers Day, to raise awareness of Maths and the NSPCCC, we measured our feet and hands. We learned the mathematical words of length, width and perimeter. We had to use string and a metre ruler to find the perimeter of our hands and feet. In our Maths lessons, we have been using equipment to help us make equal groups and we have learned how to represent those groups as repeated addition and as multiplication sentences.
Music
In Music, we have been learning new songs to sing and to play on the glockenspiel. We have been having fun singing and passing our shoes to the pulse!
Perseverance award
Finally, we have a new award in Seahorse Class – our "Perseverance Award", given to someone in Seahorse Class who has really tried hard to achieve during that week.
Well done Seahorse Class and keep up the good work!
Claude in the city
Seahorse Class have been using the book 'Claude in the city' as our stimulus for English. We have been exploring the characters, through drama, speaking and listening and writing.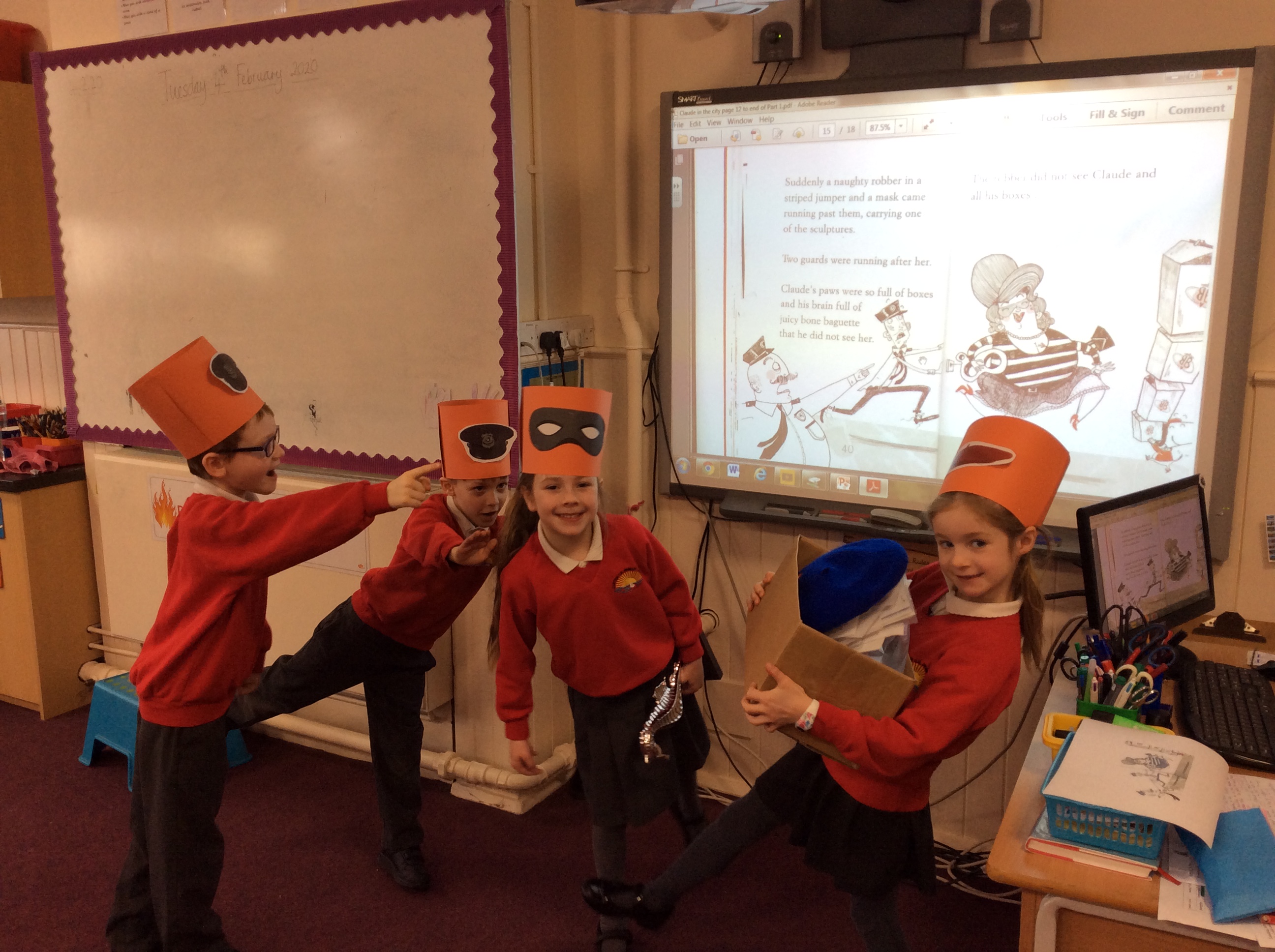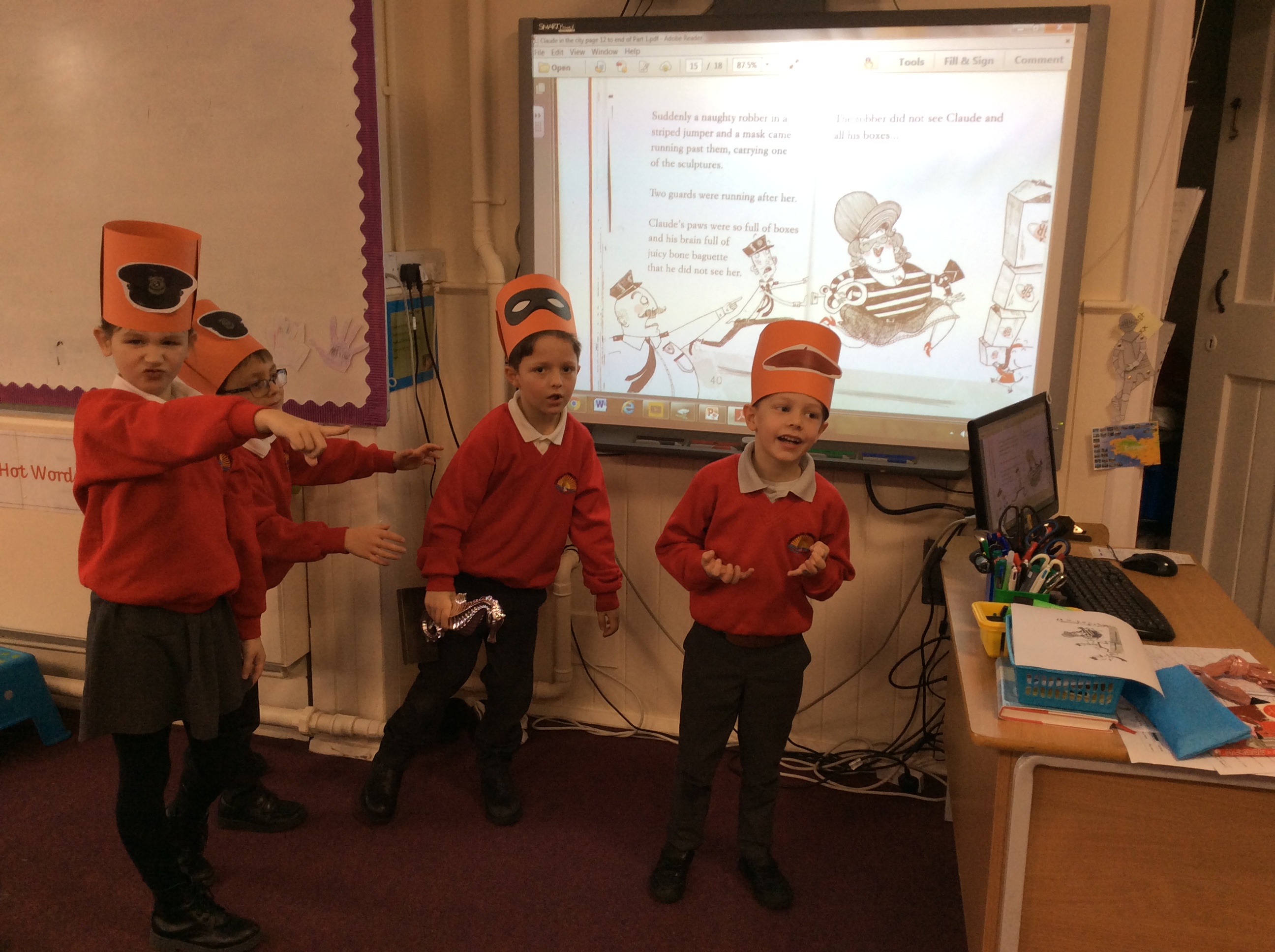 We created freeze frames of scenes from Claude in the City.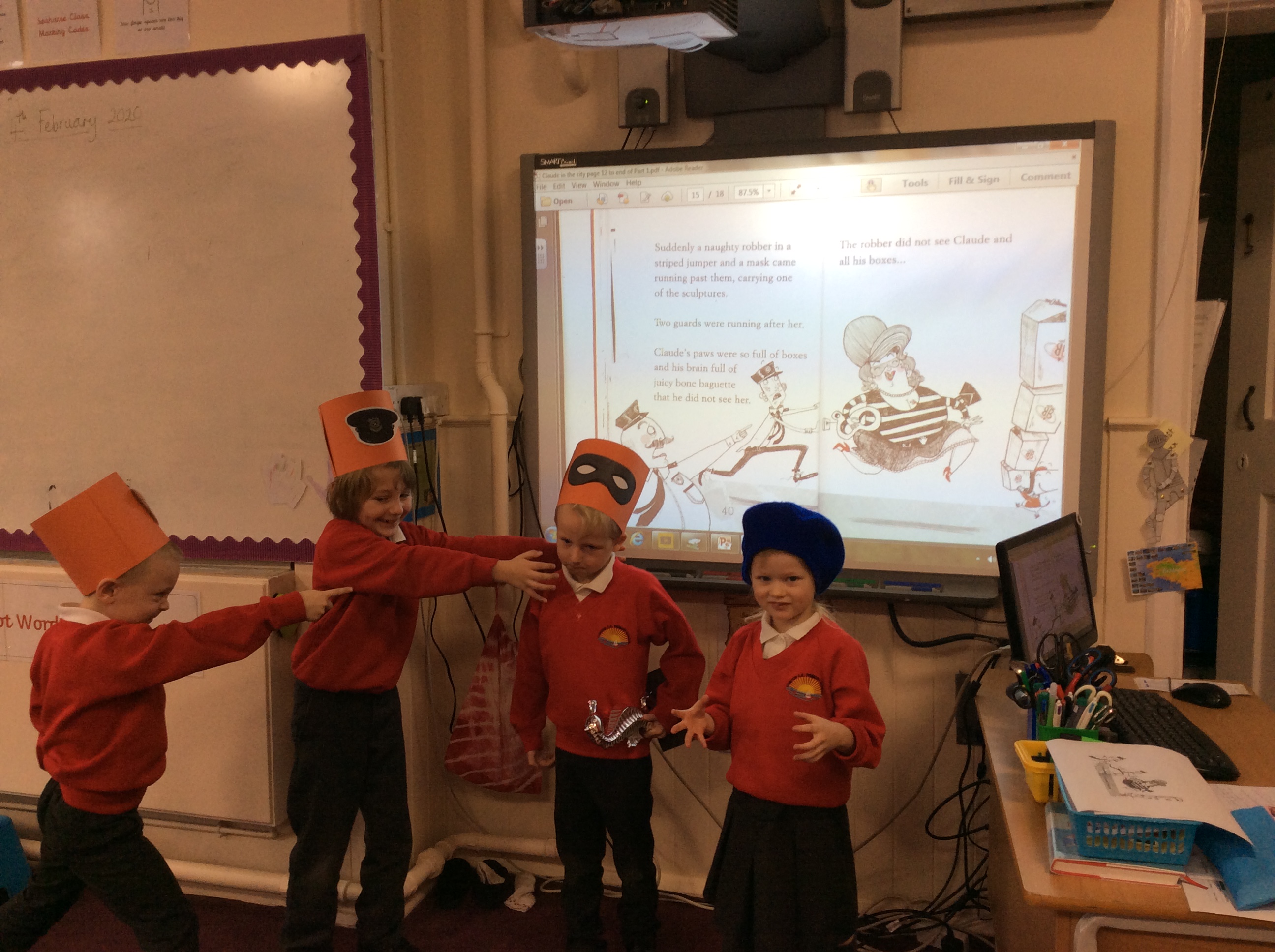 Castles
Our Topic has been Castles.
We have learned about William the Conqueror and the Battle of Hastings in 1066. We have even made the Bayeux Tapestry for the classroom! We have learned about the different types of castles which were built and where they were built in England and Wales. In Maths using 2D shapes and we designed and made 3D castles from recycled materials.
Framlingham Castle Visit
We had a fabulous day visiting Framlingham Castle, finding out about the castle's history.
Learning Cafe
Even our Learning Café was castle-related: making split pin knights with our grown-ups.
English
In English, we have been reading traditional tales – with a castle twist, of course – and have been acting in rôle to answer questions and even growing a pea plant from seed when we read The Princess and the Pea.
Feel the force!
In Science, we have been learning about forces and electricity. We learned about gravity using our class marble run and then designed and made our own marble run from recycled materials.
We used wires, batteries and bulbs to make a circuit – if the bulb didn't light up, we knew there was something wrong with our circuit!
2018 - 2019 Years 1 & 2
All Aboard!
Seahorse Class have been learning about "The Titanic" this Half Term. They have discovered lots of interesting facts about this famous ship and its disastrous collision with an iceberg in the middle of the Atlantic Ocean.
They have written a non-chronological report on the Titanic in English and in Topic they have designed their own ticket for the passage.
Seahorse Class have also been learning about the French sculptor, Auguste Rodin and made their own Titanic models from clay – they just need to keep them away from any ice!
RE
Yr 1 & 2 have been exploring their RE enquiry question: How do Christians belong to their faith family? To help the children start to understand commitment they experienced a Christian wedding. Thank you to parents for the wonderful outfits & party food. Pupils had a fantastic time learning through experience.
English
Pupils have been learning how to write a traditional story.
The children have been analysing and evaluating 'The 3 Little Pigs' looking at language including characters speech, story structure and presentation.
Maths
We have been learning about and extending our understanding of place value. Place value means that the place we write a digit tells us its value. This helps us to know how big or small our number is. We have been playing lots of games that have got us thinking about our tens and ones.
Science
We have been carrying out experiments involving taking measurements and using equipment to gather data. We have been learning about how animals and plants have adapted to the environment that they live in.
Parent Lunch
We have enjoyed having our parents in for school dinner.
2017 - 2018 Years 1 and 2