Sharks
Welcome to the Shark Class Page

Years 5 and 6 Teacher - Miss Ayers
2020 - 2021
We have had a fantastic start to the new school year and have achieved so much.
Buzz wire game
In science we created our own steady hand games. This was a great opportunity to test out our understanding of circuits and how to complete them.
Some of the games were very tricky!
British Values Day
We celebrated British Values in class. We looked at different elements such as democracy, individual liberty, the rule of law and mutual respect and tolerance.
We created our own posters all about what our school is like and how we show British Values.
Street Child
In English we have been reading Street Child by Berlie Doherty.
We have completed some character studies, writing in role.
Here are some of our freeze frames from part of the story.
Science
In science we have been learning about electricity.
We have created and tested different circuits.
We also looked at what static electricity is. We were amazed at how much static electricity can have an impact of materials around it.
Our main scientific skill we have been focusing on is planning an experiment.
2019 - 2020
Food around the world
Our Design and Technology topic this term is all about food around the world. We have been looking at where food and ingredients come from.
We also have started to create some dishes that might be popular in different countries. We have started with Mexico.
We made Quesadillas and tomato salsa. we also tried re-fried beans which had a mixed response!
Careers Morning
Year 5 had a visit to Ormiston Denes Academy for a careers event. They had the opportunity to talk to different people about potential careers.
It was really interesting to see what jobs are available locally.
World Book Day 2020
We had some really creative world book day costumes inspired by different books we have been reading.
We were so inspired by the different books that we did some Maths and English related to different stories.
Rock Steady
It was great to see the shark children who are in Rock Steady practice their song. Such a good example of teamwork and working to achieve such amazing music.
Chinese Art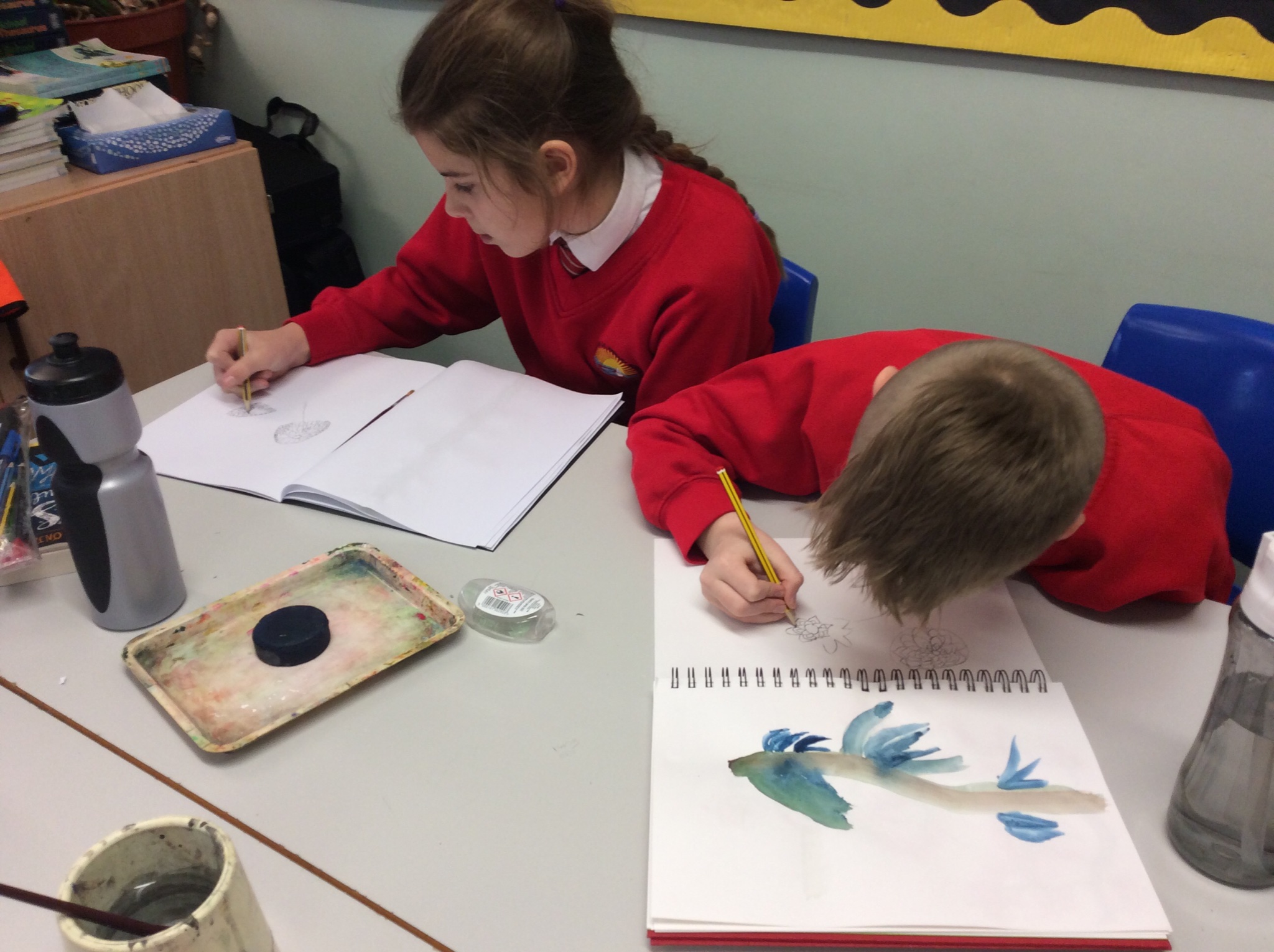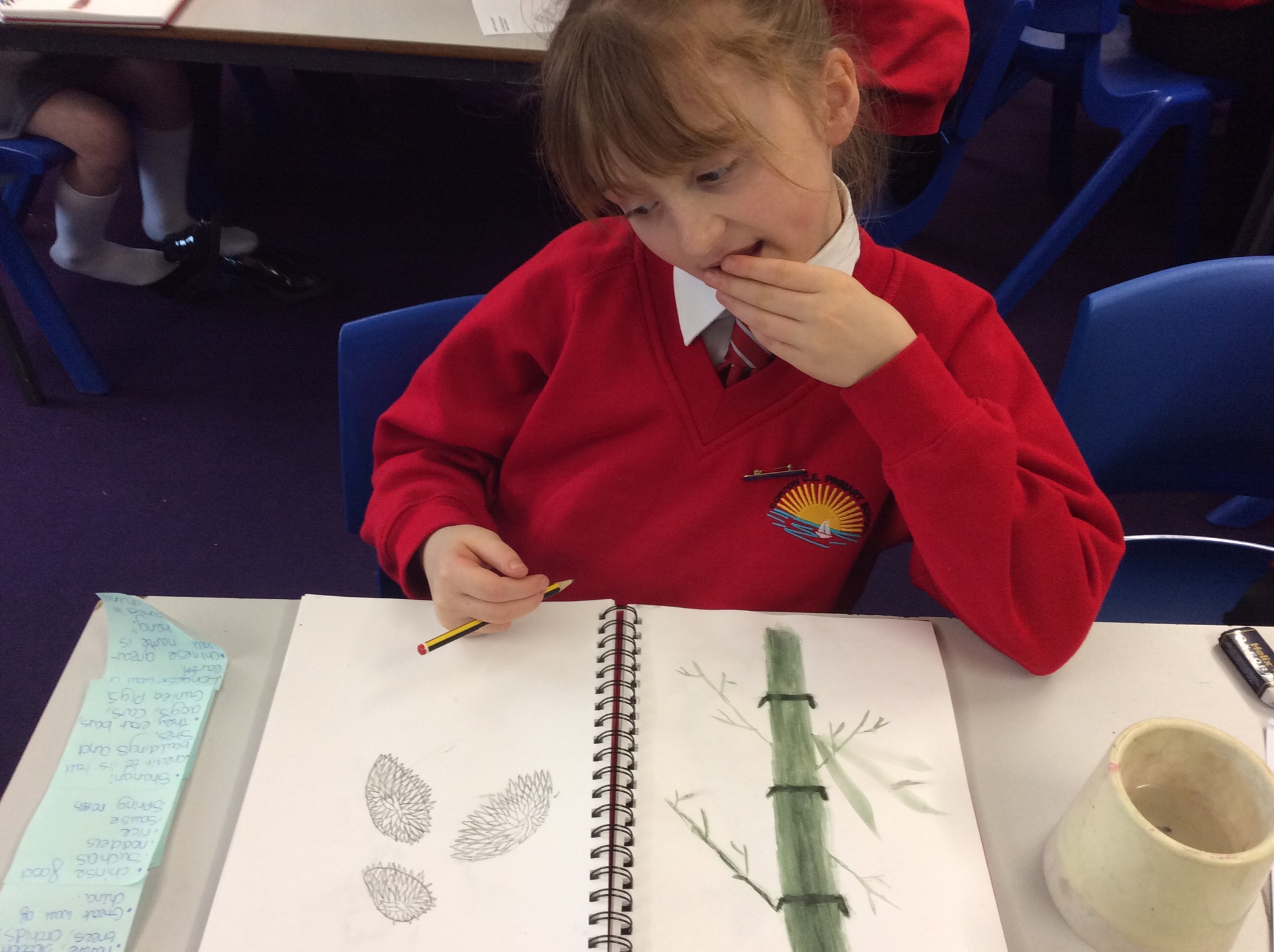 We have been exploring Chinese Art. We have looked at the importance of brush strokes and how so many of the pieces of art had a rich history or story behind them.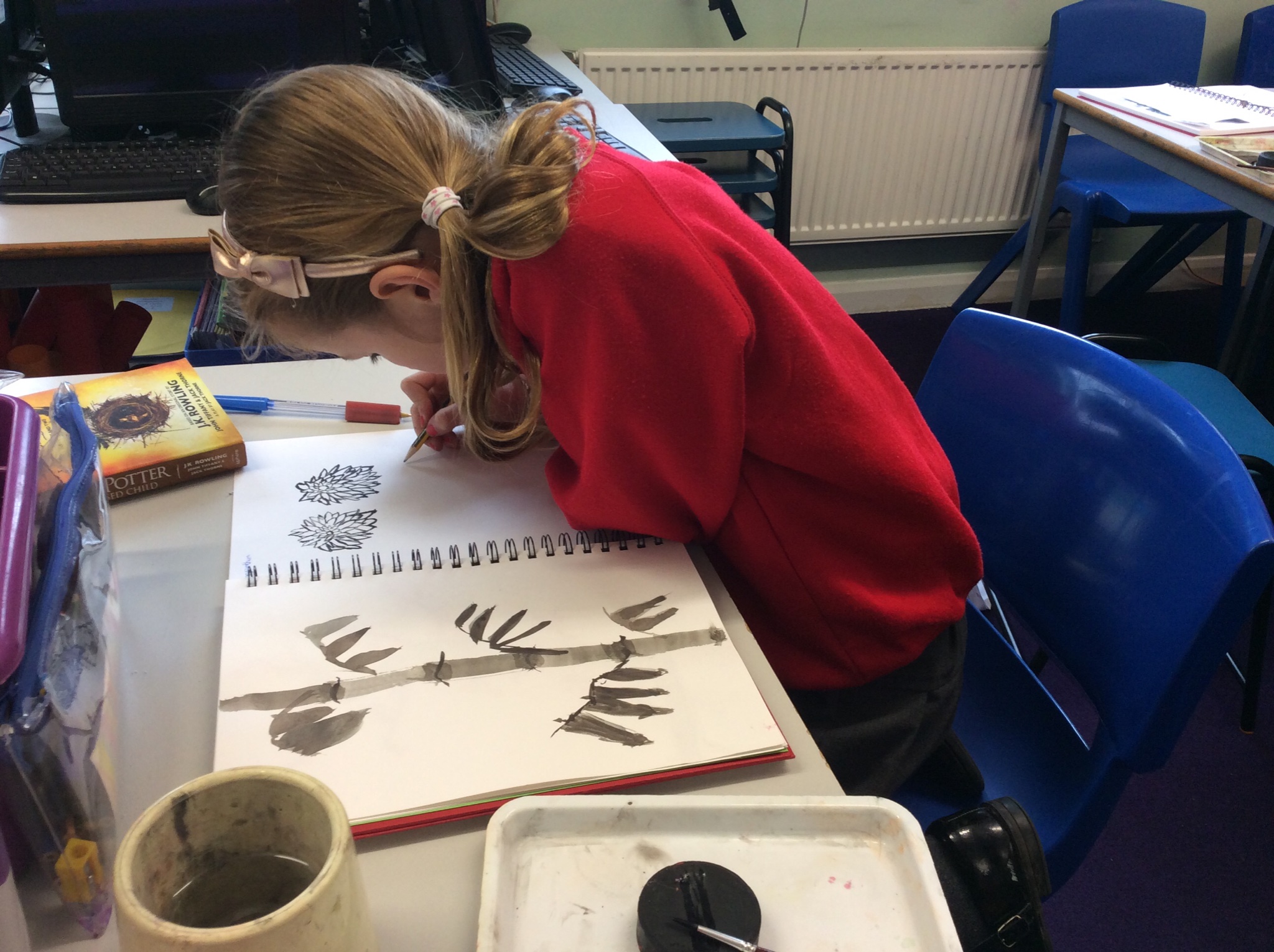 We studied 'The Four Gentlemen' and recreated our own versions.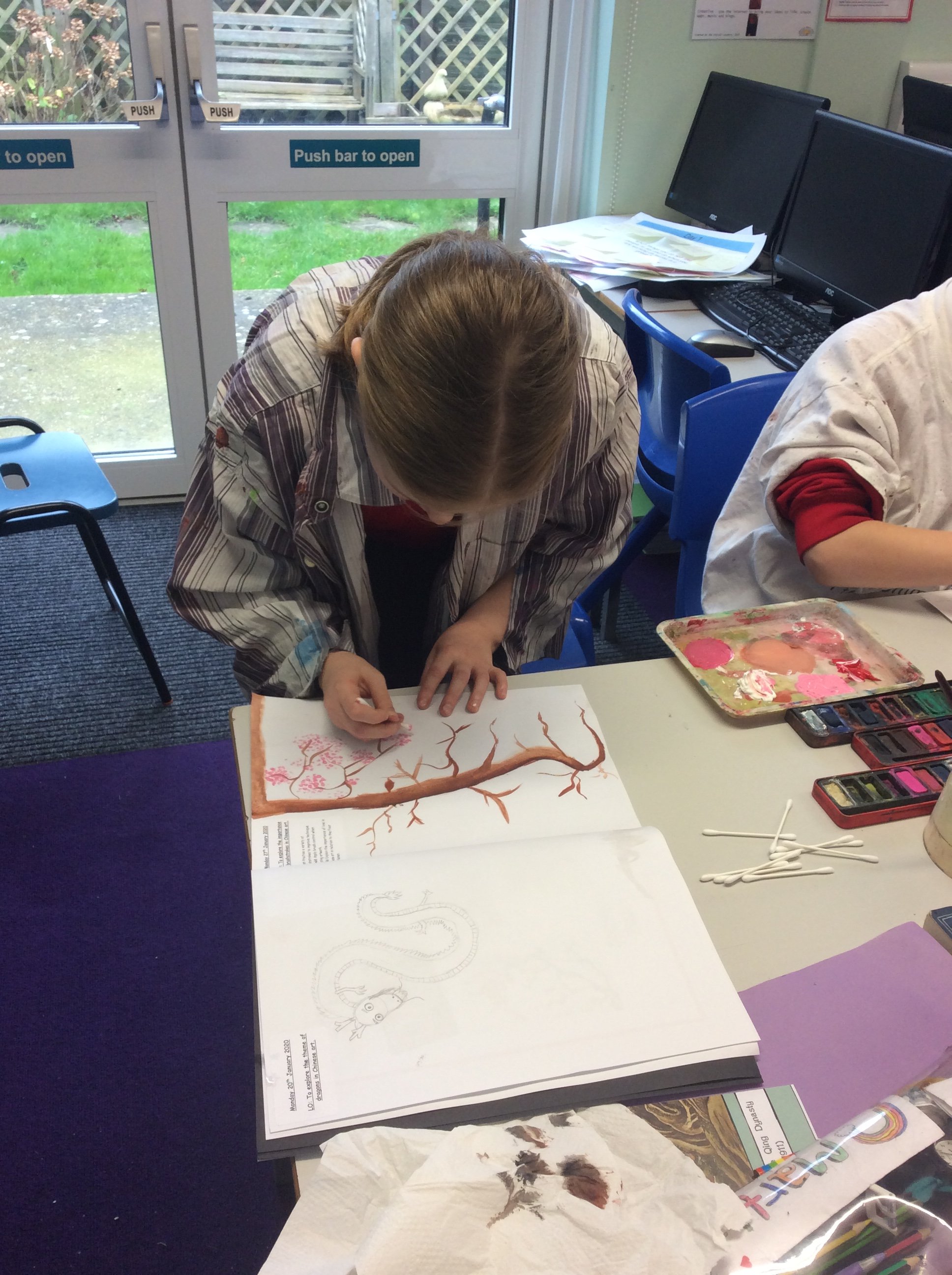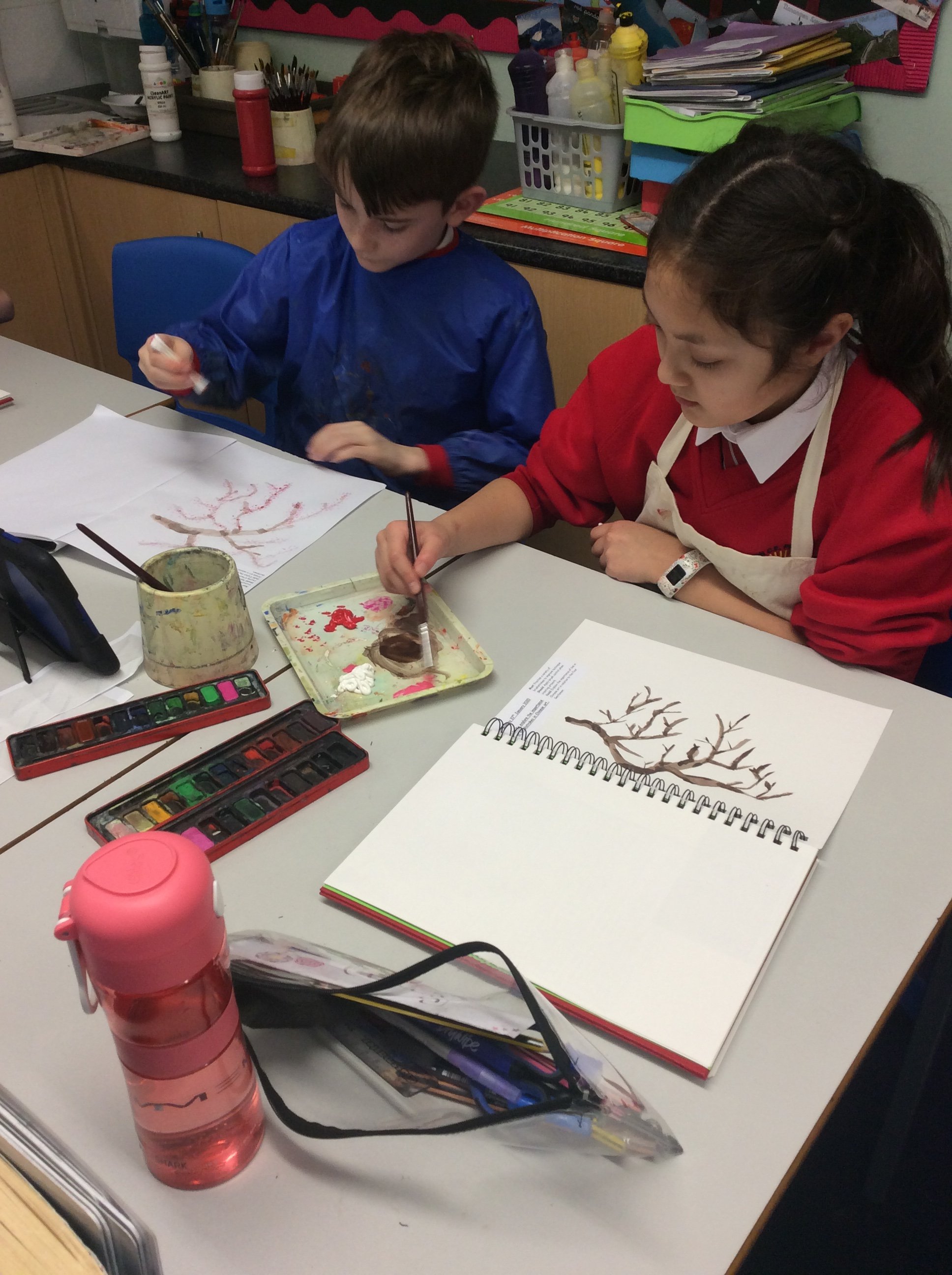 We really needed to focus on the pressure we used with our brushes so we could recreate the different thicknesses and strokes with our work.
Animals including humans.
In Science we have been learning about the human body along with comparing it to other animals. We started off with looking at the skeleton and the functions of it in both humans and animals.

We carried out an investigation into the importance of bone structure. We lefts some bones in water and in vinegar for a week to see how the properties would change. We were shocked to see that the bones became bendy and almost slightly translucent.
We also made our own model hand. We looked at how it was a good and bad representation of how our fingers move.
Clarinets
In music we have been learning to play different notes on our clarinets. We have started to play along to 'Living on a prayer'.
We are now really starting to see an improvement with our playing and are having less squeaks!
Crucial Crew
Year six attended the crucial crew event at Lowestoft Community Church. We took part in different scenarios and looked at how to keep yourself safe as well as making the right choices.
There were a number of volunteers there that helped guide us through what would be a good choice.
We learnt so much from our visit and are now officially part of the Crucial Crew!
Crime and Punishment
Our topic this half term is all about crime and punishment. We have been looking at the different the Romans and Anglo-Saxons and have discovered how brutal the system was.
We looked at how people would pay for their crimes through different body parts being used as payments!
Children in need
Shark class came dressed in a variety of different Pudsey and inspired outfits to raise money for children in need.
The school managed to raise over £200 for a very good cause.
Computing: website design
In computing we have been designing our own websites. We created different tabs and pages linked to various information so that it can be navigated easily.
Before we made the websites we had to do research into what makes a good website and how they are set up.
We then planned our own site based on our target audience and made sure that they could get to the information they needed.
Music
In music we have been learning to play the clarinet. It has been great to see the improvement week on week and see how different notes are being played.
It has been
Maths Problem Solving
In maths this term we have had a focus on reasoning and problem solving. We have been working to find patterns and rules which helps us make connections.
Using equipment helps us to explain our understanding and convince others of what our answer is and why.
Parent lunch
Over this half term we have had some of the adults from Shark Class come to share lunch with their children.
It was a fantastic opportunity to take time out of their busy day to discuss and enjoy some good food.
WW1 remembrance poetry
We created poetry inspired by remembrance day. We also used chalk pastels to create a graded pictures with silhouettes.
Super Shark Sport!
Shark class have been working hard on their ball skills and working as a team.
Warner Brother's studio Tour
We have had an exciting start to Shark Class with a Trip to the Harry Potter Studios in Leavesden.
We entered the Wizarding World of Harry Potter and became behind the scenes experts for the day. We rode on broomsticks, had tea with a giant and even had a close encounter with a dragon!
We had a writers workshop and found out some amazing facts about how special effects were used and how the movies were created.
2018 - 2019 Years 5 and 6
The year six sharks have been working really hard and showed such good teamwork and dedication to the SATs test this week.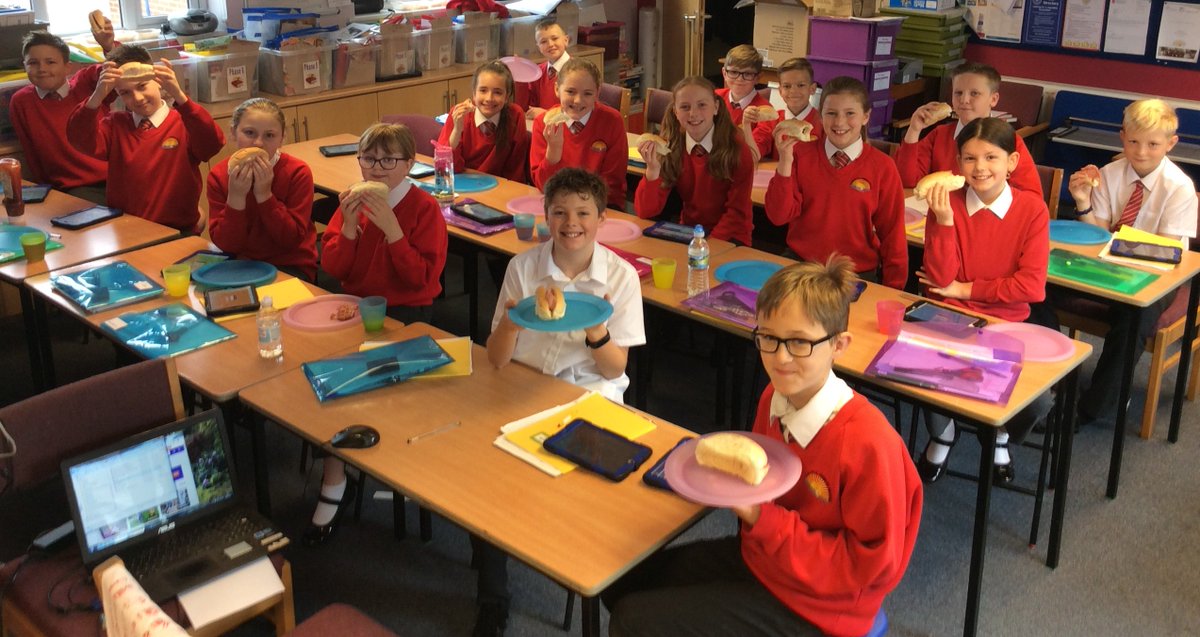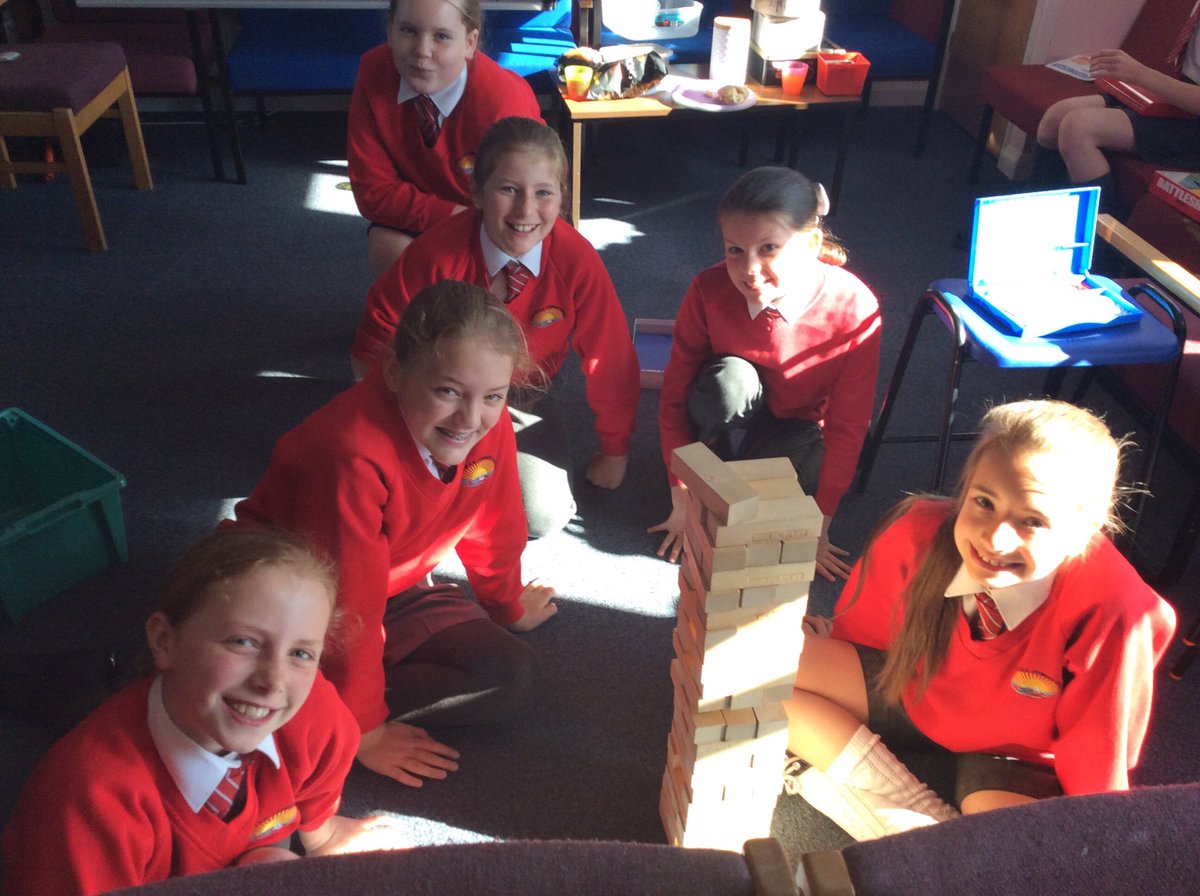 It has been lovely to see them come together to support each other and really show how amazing our children really are!
Boy in the Tower
In shark class we have been studying the book: Boy in the Tower by Polly Yo Hen.
We have written news paper reports and police incident reports based on the events.
When they first arrived, they came quietly and stealthily as if they tip-toed into the world when we were all looking the other way.
We also gained inspiration from Tuesday by David Wiesner. It's amazing what can happen on a Tuesday night when all is asleep!
Here is an example of one of the reports that were made.
Reason for investigation
Reports have come in linked to disturbing events late at night, on the night of Tuesday leading into Wednesday morning. Complaints have been brought to our attention and the amounts have risen dramatically. We have interviewed the local residents for what they witnessed. This occurred in the Town of Pleasant Ville.
Recount of interview with Amelia Smith
Amelia Smith was asleep on her rocking chair when she felt a strange feeling but did not think anything of it. She said when she woke up from her nap she realised the TV was on when she was positive she had turned it off before she took a nap. She also brought to our attention that it was a show that she had never been interested in- which makes this even more surprising. Wednesday morning approached, she went for her daily walk when she noticed lily pads scattered all over the floor. This was not a sight she saw every day and she stated it was one of the most unusual days of her life.
Recount of interview with John White
John White experienced something similar to Amelia Smith but with some difference He reported this to us: "I was having my 9pm snack, as you do. Suddenly, a frog noise buzzed into my ear. I scanned the kitchen but there was no sight of anything. I guessed it was just me imagining it." Mr White did not do anything about it until he had realised he is not the only one who had a strange night on Tuesday 7th April.
World Book Day
The class transformed into the most wonderful array of characters for world book day. We carried out activities based on the book 'The land of Neverbelieve'.
We created islands and creatures to live on the island.
Victorian Britain
We have been looking closely at what life was like during the Victorian era. The children have created some fantastic homework linked to the topic from bridges to inventions.
Lovely to see fantastic home learning happening with the Shark children.
We have also been recreating our own versions of cityscapes inspired by L. S. Lowery. We had to really focus on perspective and how to make places, objects and people seen closer or further away.
Gingerbread houses
Shark class made some fantastic gingerbread houses.
We carried out a product design to see what was available. Once we had looked at other houses we then designed our own.
It was a really big learning experience and was a lot more challenging than we originally thought!
The trickiest part of the project was constructing the houses and making sure they actually stuck together.
Plants and Photosynthesis
We have just started our new topic in science. We started our topic off with looking in detail at leaves and classifying them into different groups.
We were fascinated by the detail we could see using the microscopes.
Street Child
We have started to study the book Street Child
We have been acting out the different scenes in the story and getting to know all the difficult times Jim went through.
Crucial Crew
Year 6 had a very informative time at Crucial Crew. They took part in different activities, learning how to stay safe and how to act responsibly.
It was a good opportunity to learn about fire safety. The children got to experience a simulation of a house fire and what they needed to do. Also, the children were able to find out how to prevent such an event happening.
STEM Afternoon
Shark class had a fantastic time at Ormiston Denes taking part in a STEM afternoon. We learnt about different types of electricity and had great fun with the interactive exhibits.
It was great to see such good teamwork!
It is amazing how electricity, magnets and forces work.
RE
Shark class started their new RE question: How do Christians bring hope at Christmas.
They made over 100 chocolate chip cupcakes to give out to all the children in the school to spread hope.
Such care was taken to make the cupcakes!
Science Learning Cafe
We investigated the speed of chemical reactions with rhubarb. We were amazed how quickly the Potassium Permanganate went colourless because it reacted with the Oxalic Acid.
It was great to see so many parents in to share learning with their children.
Visit to Ormiston Denes Academy
Shark class had a fantastic time experiencing life in a High School.
We took part in mission impossible where we had to decode different cyphers to identify the clues.
In Science we created hoop gliders and slime (Yes! Slime in school!)
In PE, we played team games and used strategies to try and complete the challenge.
PCSO Visit
Shark class had a visit from PCSOs Norman Drew and Nigel Sutton. They spoke to us about staying safe online.]
We also discussed the age limits for different online social media sites and games.
Particle Theory
The Whoosh bottle was a great way of showing particle theory in action. It was an extremely fast reaction and we could see how the liquid turned to vapour with explosive results.
As you can see and hear! The experiment was very fast reacting!
PE: Team building
In one of our weekly PE lessons, we have been learning to work as a team to overcome obstacles.
Home learning
Shark class have really taken home learning to another level so far this year! For our topic work linked to Ancient Egypt, the children have been creating board games, their own shaduf as just a starter!
What a creative group of children we have in Shark Class!
Music
We have been learning about African Drumming. We have been layered together two different rhythms.
We learnt about the different parts of the drums.